BOSTON INTERIOR WOOD SHUTTERS AND WOVEN WOOD SHADES ADD VALUE TO YOUR HOME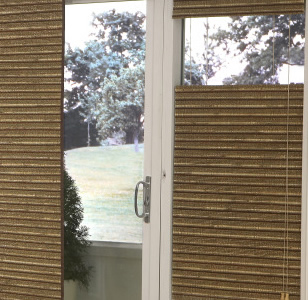 When you want a custom look for your home, wood window treatments are just what the decorator ordered. Interior wood shutters, also called plantation shutters, are a unique and sophisticated way to cover your windows. One advantage of interior wood shutters is their durability. Since wood shutters do not need replacement every couple of years like other kinds of window coverings, they provide long-lasting value to your home. An alternative wood option to consider is Boston woven wood shades which provide an attractive energy efficient solution for your home. A major factor in choosing between these two window treatment types is the location in your home. For example, bamboo woven shades might look better in your kitchen or bathroom, whereas interior wood shutters will work better in your living room or den.
When it comes to interior wood shutters, Hunter Douglas has the best available on the market today. Hunter Douglas Heritage hardwood shutters are made from seasoned wood that adds the perfect unique touch to your home. Hunter Douglas is known for its reliable customization and vast choices in window treatments. They treat their shutters so that they will last for years and still look like new; the UV protection provided is 99% when they are completely shut. You can choose from the endless custom paint and stain options with these wood shutters, and you can have them customized to fit French doors or even an odd shaped or sized window. Your options are virtually limitless.
If you are looking for woven wood shades in Boston, the Hunter Douglas Provenance is an excellent choice. Hunter Douglas believes in their products and provides a lifetime guarantee for all lines of window treatments. Woven wood shades from Hunter Douglas are the most durable you can buy as they have taken care to choose the right material treatments to keep them looking great for years. There's strength in numbers, and Hunter Douglas knows that, so their woven wood shades are woven with multiple yarns resulting in a more durable and strong woven wood shade.
When you are considering a makeover for your Boston windows, interior wood shutters or woven wood shades make a bold and unique statement about you and your home. You will have more control over your interior natural lighting as well as an elegant look for your home's decor.
If you are looking for Greater Boston Area Plantation Shutters then please call 781-595-0097 or complete our online request form.