Solar Shades For Maximum Comfort In Your Boston Area Home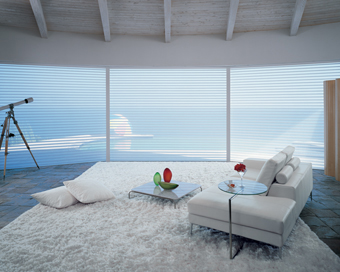 Solar shades from Stacey's Home Décor offers you many ways to block and filter the light and heat that comes in through your Boston area home's windows. You likely have windows situated in different areas of your home that are faced with varying amounts of sunlight and shade. One side or room of your home may be super-heated by afternoon sun, and another area may be dark and gloomy because it's too shaded by trees or buildings.
Taking care of each window at a time, you'll have choices in roller solar shades that can help you with each type of sunlight or heat filtering needs you may have. In general, solar shades can be found in types that are:
Heat Absorbing
Heat Blocking
Light Filtering
Glare Reducing
Solar Screening

Custom Shades
Mesh Shades
Woven Shades
Bamboo Shades

Roller Shades
Top or Bottom Opening Shades
Motorized Shades
Automated Shades
The true solar shade can block out or filter the heat from the sun, keeping your home safe from the effects of harmful UV rays. These roller shades come in varying materials that all offer a certain level of UV blockage. From very light to nearly complete heavy UV blocking, you'll still have much light coming through your rolling solar shades if that's the style you want.
Light and heat don't travel along the same wavelength. Infrared light is the portion of the sun's light that causes and transfers heat through your windows. Instead of paying for expensive window glass that blocks those rays, opt for solar shades instead for a much better budget friendly option.
Solar shades are attached to a roller that sits on a spring system installed at the top of your window frame. They are easy to open and close and come in varying styles. From the simple string pull down to more advanced motorized systems, there's a style that will suit your needs perfectly. Give us a call at 781-595-0097 for all your Boston area shutter needs.
Motorized Solar Shades
Solar shades are wonderful as well for privacy options, especially the roller track styles that are attached on both sides to a track. We can easily motorize this style of shade. Motorized solar shades can also be automated so they open and shut at the same time every day or on a schedule of your choice without you having to lift a finger to control them.
With motorization, now when you're on vacation you will be able to open and close your home's window treatments by using a handy app on your smartphone or with special software over the internet with your laptop or PC.
Natural Materials In Solar Shades
While not fitting under the direct label of, "solar shades," there are roller shades made of natural materials which offer you heat absorbing power that's natural and effective at blocking or absorbing some of the heat from the sun. Wood is a wonderful option in shades that can be woven together or slatted and attached together to form shades. Stacey's Home Decor would be happy to provide you with many shutter services.
Bamboo is actually an extremely fast growing grass, which makes it a wonderful option in eco-friendly natural materials. Check out our woven wood shades in several options of beautiful natural materials that do a good job at filtering out light and heat for your home.
If you are looking for Solar Shades in the Greater Boston Area then please call 781-595-0097 or complete our online request form.