THE BENEFITS OF BOSTON WOOD BLINDS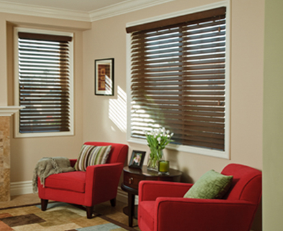 In interior design, the blinds found on windows and doors are major decorating elements. Blinds in Boston made of wood or those with a wooden look add a feeling of warmth and coziness to the atmosphere in the room. They provide privacy without looking stark. They have an inviting look and add beauty to the rest of the furniture in the room. Interior decorators prefer wood blinds for their warmth, versatility, and durability. They can be custom-crafted to suit the décor of any room.
Wood blinds in Boston give a natural look to the room with a graceful charm. They look pretty from both inside and outside the window. In addition, window wood blinds are good insulators from heat or cold. For humid areas like windows in the bathrooms or in the kitchen, faux-wood blinds, which look exactly like wood blinds, can be used.
Wood blinds are crafted from two different types of wood in most cases: Ramin wood and Bass wood. Bass wood is the most preferred since it has more distinctive grain and is stronger. It is also good for staining. Blinds can be constructed with a no-hole option that enables the blinds to make the room really dark. Using a 3-inch valance on these blinds is very decorative. Ramin is the less expensive alternative and generally uses a 2-inch valance at the top of the window to hide the metal head rails.
Wood blinds in Boston come in lots of varieties--vertical blinds, woven wood blinds, faux wood blinds, wood mini blinds, etc. They are also available in various shapes, stains, colors, and shades and can be created from different varieties of wood. Window wood blinds can be custom ordered. They can be fitted with other optional features like fabric tapes, cord-want tilt and motorization, light-blocking, UV control, and anti static control.
The size of the slats has to be determined when buying wood blinds. One-inch slats are for French doors and smaller windows whereas two inch slats look good on windows of any size and shape. Blinds that have slats bigger than two inches look like plantation shutters and provide maximum see-through space when open. Other options provided with wood blinds are cordless operation and valance upgrades as per customer requirements.




If you are looking for Greater Boston Area Plantation Shutters then please call 781-595-0097 or complete our online request form.