The Timeless Elegance of Roman Shades: A Boston Homeowner's Choice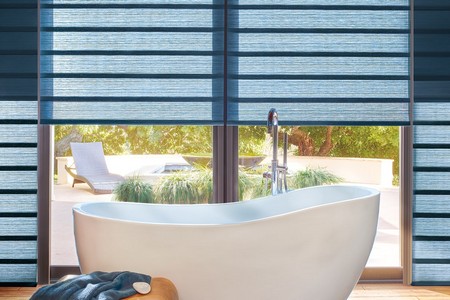 When it comes to window treatments, homeowners in Boston have a wide array of options to choose from. However, one window covering style has consistently stood the test of time and remains a popular choice among Bostonians – Roman shades. These versatile and elegant window treatments have captivated the hearts of homeowners across the city. In this blog, we will explore why Roman shades are so popular with homeowners in Boston, highlighting their timeless appeal, energy-efficient properties, and customizable designs.
Timeless Appeal
Roman shades have a timeless charm that perfectly complements the historic and traditional architecture found throughout Boston. Their classic, clean lines and soft, flowing fabric create an inviting and sophisticated atmosphere in any room. Boston homeowners appreciate the way Roman shades seamlessly blend with both vintage and contemporary interior designs.
Roman shades are available in various styles, including flat, hobbled, and waterfall, allowing homeowners to choose the perfect look for their space. The versatility of Roman shades is one of the primary reasons why they remain a favorite choice for Boston residents. Whether you live in a historic brownstone in Beacon Hill or a modern condo in the Seaport District, Roman shades can be customized to suit your home's unique aesthetic.
Moreover, Roman shades come in an extensive range of fabrics, colors, and patterns. This flexibility allows homeowners to find the ideal Roman shades that not only match their décor but also reflect their personal style. Whether you prefer a neutral palette that exudes elegance or bold patterns that make a statement Roman shades offer endless possibilities for customization.
Energy Efficiency and Climate Control
Boston's climate can be quite unforgiving, with chilly winters and hot summers. Homeowners in the city recognize the importance of energy-efficient window treatments, and Roman shades excel in this regard. The insulating properties of Roman shades help maintain a comfortable indoor temperature throughout the year.
During the winter months, Roman shades act as a barrier against cold drafts, preventing heat loss and reducing energy bills. The layers of fabric in Roman shades provide an extra level of insulation, keeping your home cozy and warm. When summer arrives, these shades can be easily adjusted to block out the harsh sunlight and keep your interiors cool, thus reducing the need for air conditioning.
Roman shades also allow for precise control over the amount of light that enters a room. This is especially important in a city like Boston, where natural light can be scarce during the winter. Homeowners can raise or lower their Roman shades to achieve the perfect balance of light and privacy, enhancing the comfort of their living spaces.
In Boston, where tradition meets modernity, Roman shades have found a special place in the hearts of homeowners. Their timeless appeal, adaptability to various architectural styles, and energy-efficient properties make them the perfect window treatment choice for the city's diverse homes. Whether you're sipping tea in a historic Back Bay brownstone or enjoying skyline views from a sleek Seaport penthouse, Roman shades offer both style and functionality that resonate with Bostonians. So, if you're a homeowner in Boston looking for window treatments that combine elegance, versatility, and energy efficiency, consider Roman shades - the city's beloved choice.
With Roman shades, you'll not only elevate your home's aesthetics but also enhance your overall comfort and energy savings. Contact Stacey's Home Decor for Roman shades in Boston. We're the top company for shutters and more.
If you're looking for a magnificent Roman Shade service for your Boston area home, call Stacey's Home Decor at 781-595-0097 or complete our online request form.