PLANTATION SHUTTERS IN BOSTON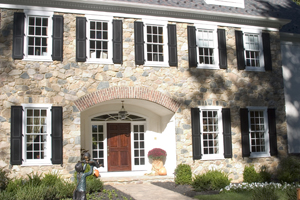 Shutters have been around a long time. Shutters were one of the only choices for window dressing way before southern plantations made them famous, and modern shutter design can make the plantation look like the stone age.
But there is something special about the plantation, that image of the refined and remote, the welcoming yet mysterious, that makes the plantation shutter firmly entrenched in the Americana mystique. Originally made for the English aristocracy, the shutters started off as solid boards over the lower, glassless portion of a window. Evolving over time, plantation shutters are installed inside instead of out, to allow occupants to control shade and privacy from within. On the interior, these wooden shutters in Boston will last a long time and add class value to your home. Like other wood shades, they are versatile enough to be the main piece of both traditional and contemporary decor.
Plantation shutters in Boston have a pleasing appearance, that stands alone without drapes or curtains. They regulate light and provide insulation like a wood blind. When open, the idea was that they would let in fresh air, and when not in use would look like a decorative wall panel. Now, much more than wood blinds, they are used for their decorative, rather than functional value. They still insulate, and block out UV light.
Plantation shutters in Boston are the most aristocratic covering you can have for your windows. The timeless elegance never wavers with changing styles. Wood blinds are the modern window covering, while shutters are timeless. Shutters are on the short list on classy home upgrades, along with the fireplace and tiling.
Shutters have always been the realm of the custom designer, and modern shutters can be used over a variety of openings other than the standard window. Plantation shutters can dress up your sliding glass door and make it something beautiful as well as functional. French doors are also a prime candidate for shutters. Shutter slat design has changed over time, but all shutters are cordless. This is a safety feature only rootless wood blinds can match.
Shutters can be made from a variety of woods as well as vinyl. Vinyl might seem like heresy for some, but is a less expensive alternative and actually easy enough to install for the do-it-yourself types. Otherwise, shutters can come in even more wood types than the typical wood blind. Because they are mounted on the inside and primarily decorative, almost any type of wood can be used. Hardwoods are still recommended because of their stability.
Custom plantation shutters will come in furniture finish quality with your choice of design, wood type, louver size and color. The traditional louver size is 1 1/8", but massive 5" sizes are popular now. The 5" is much larger than any other wood blind.
If you are looking for Greater Boston Area Plantation Shutters then please call 781-595-0097 or complete our online request form.