Save Energy (And Money) With Window Shutters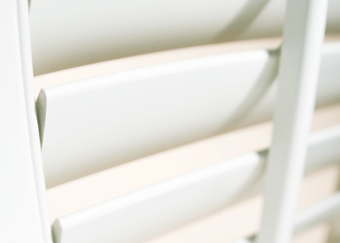 In the past, windows shutters were used in America to block the hot sun or cold winds. Over the years, however, Boston window shutters evolved into a largely decorative window covering.
Take a quick drive through some neighborhoods in the Greater Boston area, and you'll see many homes with "traditional" style window shutters framing their windows. Those shutters are usually fixed to the house, incapable of opening or closing, and used just for aesthetic purposes.
Dual-pane windows are often used in modern home to help with insulation and energy savings, but there's no reason that the window shutters we offer at Stacey's Home Decor can't also help your home as energy efficient as possible.
Energy efficient window shutters are becoming increasingly popular with builders and homeowners. They can provide you with huge energy savings that can reduce your utility costs all year long.
Interior Window Shutters
Window shutters are commonly thought of as products that are installed on the outside of a home, but indoor shutters are rapidly growing in popularity, and they can be a great way increase your Boston home's energy efficiency.
Interior shutters in Boston are mounted on the indoor side of your window frames, where you can control whether they're opened or closed to provide you with both insulation and privacy. They're especially useful during the summer months:
Closing shutters on the eastern or western windows of your home during the morning and and evening respectively can limit the amount of cool air that escapes your home.
It will also prevent sunlight and UV rays from seeping in.
This means that your AC won't have to work as hard to keep your Boston home cool, so you won't be spending as much money on energy.
As a bonus, these shutters can also make your home more attractive. Plus, with the light control that they offer you, you'll be able to create any kind of atmosphere in any room they're installed in.
Exterior Shutters
Properly designed exterior shutters in Boston are perhaps the best window insulation system on the market. They offer several advantages to your Boston home, including:
Weather protection
Added security
No thermal shock if the windows are left closed
Solid exterior shutters can decrease both heat loss and heat gain. These insulating shutters consist of wood panels, a vapor barrier, and—sometimes—a decorative covering. When they're fit against the window frame tightly, they'll provide insulation to the space between the shutters and the window.
Other Window Treatments
Many other window treatments are designed specifically to help with energy efficiency. Our professionals can help you decide on the perfect window treatments for your Boston home's energy efficiency, and we can help you combine window shutters with other window treatments to achieve the highest possible levels of energy efficiency.


If you're looking fora shutter company in the Greater Boston Area, call Stacey's Home Decor at 781-595-0097 or fill out our online request form.