WHY ROMAN SHADES MIGHT BE RIGHT FOR YOUR BOSTON HOME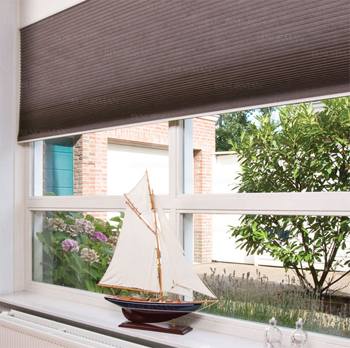 Fabric window drapes soften a room and act as a crucial design element-but they can't always block light effectively and can be frustrating to open and close. Horizontal blinds, on the other hand, present a simple way to control the amount of light in a room and can be adjusted with ease-but they may not provide much decorative impact. Get the best of both worlds by installing Roman shades, which are fabric drapes that are constructed more like blinds. Their unique look and construction will make them a welcome addition to your home's decor.
Versatility
Because Boston Roman shades come in a variety of fabric designs and weights, they adapt well to virtually any decorating scheme. You might use a rich upholstery fabric in a traditional sitting room, a soft pastel in a baby's nursery, or a bright, lightweight material in a modern kitchen. But fabric color, texture and pattern aren't your only considerations; you also can choose how the shade itself will appear when drawn up. These shades can pick up in flat panels, like traditional horizontal blinds, or in teardrop-shaped panels for a softer, draped look.
Light Control
Roman shades in Boston are generally available in either light-filtering or blackout material. When deciding between the two, consider the room's use. For instance, you might want blackout shades in a bedroom if the light wakes you up before you're ready. In a living area or kitchen, you might opt for light-filtering fabric shades that can close for privacy but still let in some light. Speak to a window treatment professional about your options before making a final decision.
Ease of Use
Unlike traditional drapes in Boston, which must be pushed aside or tied away from the window to let in light, Roman shades are often manipulated with a cord, like blinds. Some styles are cordless, however; you push a handle on the blinds to move them up or down. Cordless shades may also be top-down/bottom-up, meaning that in addition to pushing the shades up from the bottom, you can lower the fabric from the top of the window to let in light.
Energy Efficiency
If you're looking to improve the energy efficiency of your home, invest in Roman shades that feature cellular shade technology. Cellular shades, also known as honeycomb shades, act as a layer of insulation for your home, helping to keep heat inside in the winter and outside in the summer, potentially reducing your home heating and cooling costs. Cellular shades come in single-layer and double-layer styles; although double-layer shades are more expensive, they may offer up to 60% more insulation than single-layer shades.
Investing in Roman shades pays off both in the short-term, thanks to the immediate aesthetic change, and the long-term, with the improved light and temperature control these window treatments can give you. Whether you purchase custom shades for each room in your home or simply use them to enhance one or two living spaces, you'll see the benefits every time you walk past your windows.
If you are looking for Greater Boston Area Plantation Shutters then please call 781-595-0097 or complete our online request form.