POLYCORE PLANTATION SHUTTERS IN BOSTON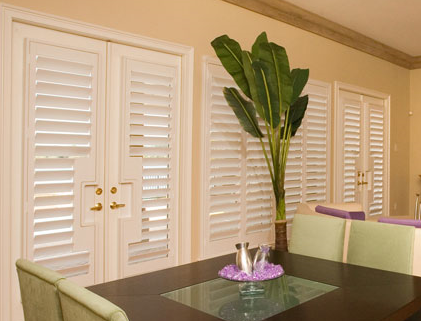 PolyCore is the world's only solid synthetic shutter with a co-extruded aluminum core. PolyCore shuttersin Boston have a baked on waterborne paint, and are both fire retardant and moisture resistant. In addition to providing a strong insulation quality against the heat and cold, they are not very easy to clean and maintain. PolyCore made-to-order plantation shutters are gorgeous, extraordinary quality, and fashionable. PolyCore has the graceful characteristic of wood plantation shutters, but the dependability and substance of a synthetic. You can have the best of both worlds! They are a beautiful shutter with a modern flair. With an stylish elliptical louver profile, these plantation shutters are an most desired selection for the buyer who wants it all.
Vital features of PolyCore made-to-order Boston Plantation Shutters include:
- Aluminum reinforced louvers, rails, and stiles make this shutter as straight as an arrow.
- Louvers available to you include 2-1/2, 3-1/2, and 4-1/2 widths for a roomy "plantation shutters" appearance.
- Shutters are always screwed together for exceptional strength
- Elliptical louver profile
- Excellent light, noise and temperature control
- Fire impervious
- Fully repairable! great for commercial applications.
- Loads of frame choices
- Manufacturer's 25 year limited warranty
- Odd shaped windows such as arches, slant tops, hexagons, and octagons obtainable with sunburst or normal horizontal louvers.
- Overhead track obtainable for sliding glass doors, room dividers, or very broad windows
PolyCore customized plantation shutters are stronger than any other synthetic shutters. Aluminum reinforcing is co-extruded with the shutter components.This gives for a quite strong, stiff, enduring shutter that will not bow, warp, peel, crack, or require repainting. Further, unlike other poly shutters that are barely glued together, PolyCore's aluminum reinforcing allows for them to BOLTED together. PolyCore is totally resistant to the environment and are an awesome choice for areas that will get wet, such as showers. Their solidity makes them a good option for shutters over sliding glass doors.
One other quality item to note is the finish. PolyCore custom-made plantation shutters provide a baked-on waterborne finish. The shutter materials are in fact painted before they are constructed into a shutter. This means that the painting process can be extraordinarily controlled. All materials are laid flat and painted in a computerized, advanced painting and fabrication facility. This allows for an inordinately even, satiny coat of paint.
Why PolyCore is better than PolyWood
- PolyCore's aluminum core makes increased louver lengths possible, making larger panels possible for a clearer and less limited view outside of the window. Many PolyWood shutters are only made in small sizes to around 28 inches wide. However, PolyCore plantation shutters can provide panel widths up to 36 inches wide!
If you are looking for Greater Boston Area Plantation Shutters then please call 781-595-0097 or complete our online request form.