How To Clean & Maintain Your Woven Wood Shades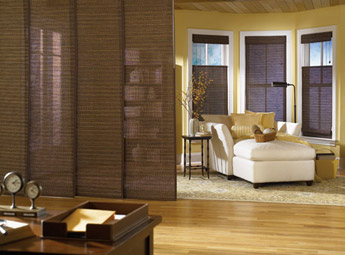 What makes woven wood shades so wonderful is the very thing that makes them hard to clean; the weave. Unlike solid fabric shades, shutters, or blinds, the woven construction of the material can trap dirt and dust within the weave, making it seemingly impossible to remove.
If you neglect the dust and dirt on your woven wood shades, the wood becomes dry and brittle. Regular cleaning and maintenance is important if you want them to last. However, you don't want to clean and maintain your woven wood shades by spraying them down with a garden hose or soaking them in the tub or swimming pool!
Instead, you can follow these simple tips from our Boston shutter company on how to care for your woven wood shades.
Vacuum your woven wood shades about once a week
Regular vacuuming is the best way to remove dust and keep it from building up on your woven wood shades. The best method is to use a flat vacuum attachment first on both sides of the shades and then vacuum with a brush attachment afterward. The brush can loosen the dirt embedded within the weave but the brush can also cause a loss of suction power, so use both.
Keep an eye on how dusty your house gets over a week's time and adjust your vacuuming schedule accordingly. Things like a dirty HVAC system and gaps around the windows and doors can cause a lot of additional dust. While most woven wood shades only need to be vacuumed once a week, yours may need it more or less often.
Spot clean your woven wood shades right away
You wouldn't think woven wood shades would get soiled with liquid or food since they're horizontal, but somehow, they do. Whether they get soiled by grimy hands or a spilled drink, make sure to spot clean the shades right away so the area doesn't get sticky or stained. Just use a moistened soft cloth to spot clean your woven wood shades.
Damp clean your woven wood shades about once a month
Depending on how dirty your woven wood shades get, plan to damp clean them as a regular part of the maintenance. Never, ever wash your shades in the bathtub, pool, or with a garden hose. Just use warm water to dampen a clean, soft cloth and then gently clean the shades on both sides. Don't use too much water on the cloth or you'll ruin your beautiful woven wood shades.
Maintain the hardware as necessary
All the hardware on your woven wood shades will need some maintenance from time to time. If the hinge screws get loose, tighten them. If the cords, anchors, or any other part of the operating system gets worn, you should replace the parts before the broken part can weaken the rest of the hardware.
Also make sure the hanging mechanism is securely fastened to the wall because if either side or the center support bracket move, it will put stress on the operating system when you open and close your woven wood shades. Proper cleaning and maintenance will keep your woven wood shades beautiful for many years.
If you're looking for new woven wood shades for your Boston area home, call Stacey's Home Decor at 781-595-0097 or complete our online request form.