BOSTON WINDOW TREATMENTS FOR CUSTOMIZING YOUR HOME AND STYLE!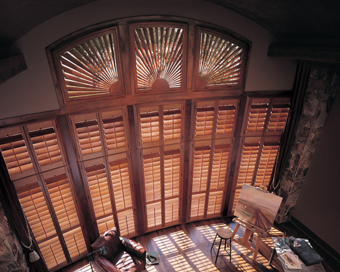 Windows can be beautiful features of just about any room, allowing natural light to enter and offering vistas of the surrounding landscape. But without the right Boston window coverings, windows can appear stark and unattractive, not to mention let in too much sunlight on glaring days. Window draperies in Bostonare a great choice for dressing up the naked windows in your home or office. Generally falling into one of two categories, drapery window treatments tend to be decorative or practical.
Decorative
Many types of Boston decorative window draperies simply frame the window at the top and/or sides, rather than covering the window itself. These styles include:
Cornices
Swags
Valences
And other kinds of top treatments
Pattern designs are virtually unlimited, so no matter whether you're looking for an elegant finishing touch for your formal decor or a simple valance for a bedroom, there is certain to be a decorative custom drapery that suits your needs. Remember, your choice of fabric can make a huge difference in the final look of the window treatment: even using the same pattern, custom draperies made up in linen, silk, and damask will look vastly different. However, regardless of which pattern and what type of drapery material you select, a decorative top treatment or cascading drapes can take a plain window and really make it shine!
Practical
Often called curtains, the more practical type of window drapery does cover the window in its entirety. This creates privacy from overly curious neighbors and enables you to keep out the natural light, if desired. Many times this type of window drapery is made from a translucent, or sheer, fabric, enabling light to filter through while dissipating the glare. Frequently installed on tracks for your convenience, most custom drapery options can be opened and closed so you can decide how much sunlight or visibility you want on any given day.
Of course, even if you opt for custom draperies that are purely decorative, that doesn't mean you have to completely forgo privacy and light control for those windows. Many types of window draperies look great when paired with functional window coverings like horizontal blinds, roll-up shades, or even Roman shades. Enabling you to get the best of both worlds, a combination of window drapery and other window treatments allows you to manage light levels while still getting the attractive appearance that's perfect for your decor.
If you are looking for Greater Boston Area Plantation Shutters then please call 781-595-0097 or complete our online request form.