A Guide to Drapery Basics for Boston Homeowners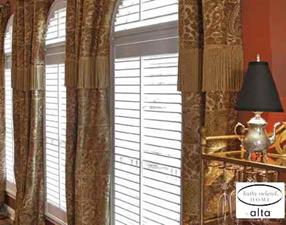 As you know, in order for you and your family to enjoy your Boston home to the utmost, it is important for your living spaces to look their absolute best. We often think of ways that we can improve the overall look and feel of our rooms, but many of these projects fall to the wayside because of the time, money, or effort that would be involved.
If you are interested in vastly improving every room within your home, you should consider installing custom draperies throughout your property. Curtains, drapes, and top treatments are a fantastically rewarding way to transform your living spaces. Best of all, the project can be accomplished easily and within practically any budget.
At Stacey's Home Decor, our Boston window treatment experts are here to help you with every aspect of this project. We carry a wide selection of curtains, drapes, and top treatments. We can provide you with samples so that you can make the best choice for your Boston home. Our team can handle both the measurement and installation for you. In the end, you and your family a guaranteed to love the results.
Drapery Terminology Guide
At Stacey's Home Decor, our team wants to help you make the most of your window treatment project. As such, we have provided this simple guide to help you get your effort off the ground. The first thing you need to know when it comes to draperies is the terminology that you will encounter.
Although these definitions are flexible, the differences between curtains, drapes, and top treatments can be broken down as follows. Curtains, generally speaking, are made of lighter fabric that the other two drapery adornments. Curtains are controllable, allowing you to determine the amount of light and privacy that you want in your Boston home.
In contrast, drapes and top treatment are purely for design appeal. Drapes and top treatments are generally made from a thicker more decorative fabric. Drapes will frame the outside of your window frames, hanging all the way to the floor. Top treatments will frame the highest horizontal of your windows, bringing the entire drapery design together.
Drapery Customization Results in the Best Outcome
One of the best reasons to consider installing draperies within your Boston home is the design flexibility that you are afforded. There are countless curtain styles including cafe, sheer, lace, gathered, and bishop sleeve curtains. Likewise, there are an endless number of top treatments from which you can chose including tabbed top, shirred, a variety of pleats, and grommet.
When you hire Stacey's Home Decor to help you with your drapery installation project, you will be able to mix and match these various styles and designs in order to come up with a window treatment selection that is truly unique to your Boston home and window treatments including blinds, shutters, and shades. You and your family will love the results for years to come.


If you are looking for curtains or drapery in Boston, call Stacey's Home Decor today at 781-595-0097 or fill out our online request form.