5 Ways Plantation Shutters Can Improve Your Boston Home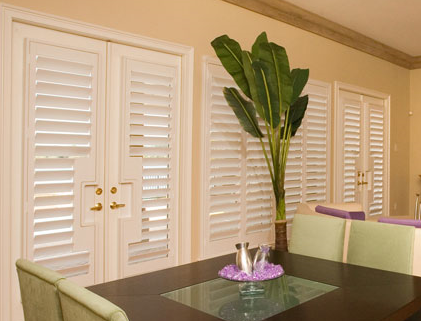 If you are looking to replace outdated window treatments with something fresh, you may want to consider installing interior shutters in your Boston home. Plantation shutters, otherwise known as indoor or interior shutters, are installed on the windows inside of your home in place of blinds or shades. At Stacey's Home Décor, we offer durable and attractive plantation shutter options that we can customize to meet the needs of your household. If you are looking for an easy upgrade for your Boston home, reach out to our knowledgeable team to get started on your plantation shutters today!
Superior Lighting Control
While all window treatments are designed to offer a degree of lighting control, some options work better than others. Plantation shutters make one of the best window treatment options available for those who are looking for superior lighting control in their home. Standard blinds and even wood blinds certainly offer shade and a degree of lighting control, but interior shutters go beyond what standard shades can offer. Plantation shutters are installed inside the window frames, eliminating any possible gap between the window and the shutters so that light cannot get through. Additionally, the slats on the shutters are thick and can be closed completely, allowing very little light through when compared with regular blinds. The slats can also be fully opened to allow plenty of light to filter into your home when needed. Furthermore, the shutters are on hinges, so they can be completely opened to allow for full, unfiltered natural lighting whenever it is needed. If you are the type of person who loves to grab an afternoon nap on the weekends but needs a darkened bedroom to fall asleep, or if you prefer to have an extra dark room for watching TV, then plantation shutters may be ideal for you.
Added Energy Efficiency
In addition to keeping unwanted light out, plantation shutters can help keep your home's temperature-controlled air in. Whether you are trying to keep your home cool during the hottest parts of summer or warm throughout the cold Boston winters, the added layer of insulation created by your plantation shutters can help. The hot summer sun shining into your home through the windows can help raise the temperature of your home, making your air conditioner work harder to cool the environment. Likewise, cold winter winds can enter your home through drafty windows, causing your heater to work harder to try to raise the temperature in your home. Upgrading to interior shutters in your Boston home can have an insulating effect that will help with maintaining a steady indoor temperature year round, adding to the energy efficiency of your home.
Increased Appeal
Of all the window dressing options, interior shutters may be the most stylish and classic for your Boston home. Available in a variety of colors, plantation shutters add a timeless, elegant look to the interior of any home. Due to their classic and attractive appearance, interior shutters will complement any home décor, so you won't have to replace your window dressings each time you redecorate your home. In addition to refreshing and improving the inside of your home, plantation shutters can also make your home more beautiful on the outside as well. Replacing older blinds or outdated drapery with plantation shutters is a sure way to brighten up your windows and add curb appeal to your home.
Health and Safety
Typical blinds, shades, and drapes accumulate dust over time. Even with regular dusting, the surfaces of traditional window treatments can store dander and other allergens. Trapped dust can be a nuisance at best, but for allergy and asthma suffers it can be a nightmare. Interior shutters are much easier to clean than shades and blinds, making them a healthy choice for homeowners who are concerned about dust build up. Furthermore, because shutters are adjusted using a tilt rod rather than a hazardous cord, they are much safer for homes with young children. If you are looking to create and healthy and safe home for your loved ones, consider upgrading to interior shutters for your peace of mind.
Durability
Plantation shutters are much sturdier than other window treatments, making them more resistant to breaks and tears. Whether you are naturally accident-prone or you have a destructive pet or child in your home, you can say goodbye to broken blinds and torn shades. In addition to being more durable, plantation shutters are also long-lasting, so once you have them installed, you will not have to worry about your window treatments for years to come.
If you are considering upgrading the window treatments in your Boston home, call the experts at Stacey's Home Décor today for more information about plantation shutters!
If you are looking for Greater Boston Area Plantation Shutters then please call 781-595-0097 or complete our online request form.